By Azzie Mekhitarian
Vahik Pirhamzei's latest work "Look Me in the Eye," played to a full capacity audience at the Lanterman Theater October 7th and 9th. An Armenian modern comedy written and directed by Vahik Pirhamzei, featuring Luiza Nersisyan, Sos Janibekyan, Anahid Avanesian and Vahik Pirhamzei, "Look me in the Eye" is an exploration of the imperfections of life often masked under the façade of youth, success and beauty.
The collaboration between the actors from Armenia, Luiza Nersisyan and Sos Janibekyan with the diaspora Armenian actors, Vahik Pirhamzei and Anahid Avanesian created a refreshing dynamic on stage for the Los Angeles Armenian community of theater goers.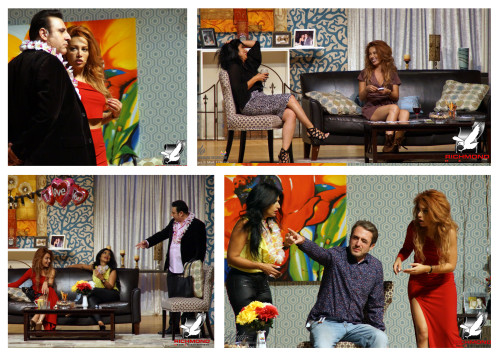 Pirhamzei's signature style and treatment of contemporary Armenian diaspora community issues resonate with his loyal following of fans. The auditorium would consistently and joyously break out into collective laughter, responding to the culturally specific ebbs and flows of the play, causing a contagion among the rest of the audience.
The interaction between the actors from different cultural experiences of being Armenian added an interesting layer to the already thought-provoking story line. Luiza Nersisya's work was a delightful balance with Anahid Avanesian's character, as the two females beautifully hashed out some difficult issues about modern life. Nersisyan brought levity to the complexities of womanhood explored in the play. Pirhamzei and Janibekyan also do a wonderful job mirroring the various stages of life while reflecting on the paradoxes of success.
Undoubtedly, Pirhamzei will develop many more plays that resonate with his audiences as his fans eagerly wait.