After 40 years, Armenians will be making their fourth appearance en masse in Asbury!
For Armenians on the East Coast in the 1950s and 60s, Asbury Park, New Jersey was THE place to come together on summer weekends. Days were spent on the beach and in the water, and at night everyone would gather at places called the Hye Hotel, the Van Hotel, the Sunset Lounge and the Hye-Da-Way kef room…crowds lining the sidewalks, and the sounds of oud and doumbeg filling the air.
With Return to Asbury, The NY Armenian Students' Association & FLArmenians are bringing back this summer tradition — in perfect symmetry with the historic beach town of Asbury Park, which is currently in the midst of its own exciting rebirth!
Event proceeds to benefit Camp Haiastan, Camp Nubar & St. Vartan Camp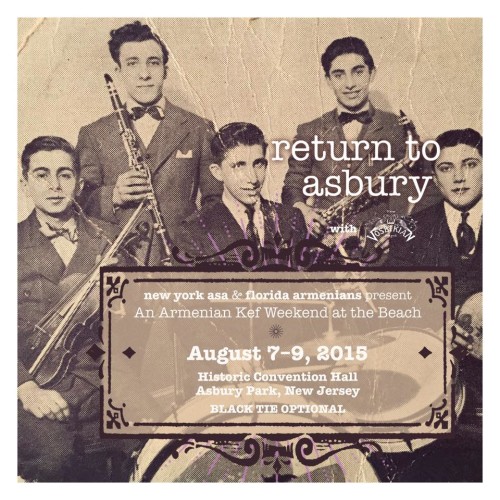 EVENT SCHEDULE
Friday, August 7th
Start the weekend off at the Watermark Lounge on Asbury Park's boardwalk, 5:30PM+
Saturday, August 8th
Join us for a day at the 7th Avenue beach starting at noon!!
4pm-6pm come by the Berkeley Oceanfront Hotel pool for cocktails
KEF PARTY
8PM to 1AM. KEF Style party featuring live Armenian music and mezze at the historic Asbury Park Convention Hall.
ENTERTAINMENT
THE VOSBIKIAN BAND return after 40 years! AND THE ARTSAKH BAND
Because of restrictions with the venues, tickets CANNOT be sold at the door. Please plan ahead!
This event is sponsored by the New York Armenian Students' Association and Florida Armenians.