One thing is clear when it comes to a production by GT, the man has material you will never hear anywhere like it!
A new remix track by GT features a collaboration with Izan, a Jamaican Reggae singer/rapper who currently lives in Jamaica. GT proposed the collaborative idea to Izan's manager and after a meeting at an underground club in LA, they agreed to get in the studio together. They went to work in the summer of 2014 and 'Keze Misht Serelem' was born generating massive buzz in the studio. They set out to remix Izan's original international hit 'Mi Baby' and push it to the Armenian market by titling it 'Keze Misht Serelem' and featuring the Armenian language.
The track was remixed by GT's longtime producer, Arden Lo. "The idea was to create a more commercial feel to appeal to a broader audience", says GT.
'Keze Misht Serelem' quickly got the attention of Armenian DJ's, including Nor Seround DJ, DJ Yaman and others. The team at GT's production got so much positive feedback from DJ's playing the hit song at Armenian events. 'Keze Misht Serelem' has since been released on a compilation CD in Europe and has received radio air play on Rhythm 105.9 Sacramento California in the U.S.
'Keze Misht Serelem' REMIXED by KlubJumpers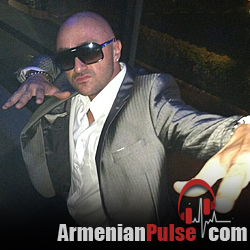 A little more about GT:
GT is from Los Angeles, California. He got into music when he was fifteen. He started his own record label when he was twenty one, learning how to release his own records by doing interships with big labels and independent radio promotional firms.
He made a name for himself in the college radio scene when he released an EP in 1998 called "Ultimate Release Ultimate High". In 2004 he released his first full length album, "The Infamous", to college radio, record pools, and to commercial radio across the states. GT quickly got noticed by morning radio shows across the country and was a frequent guest. Many stations put his song, "Baby Don't Worry", into rotation and was reported and added to Radio&Retail and Billboard magazine twice in the urban section in the southern part of the United States. He was surprised to get any notice by big stations because he was an indie not a major.
Today, GT continues to gain more and more fans and stations that support him. To him, being an indie artist is like trying to build China's Great Wall one brick at a time. "When I see fans across the country showing me support, that really motivates me to keep building my music career" says GT.
GT loves doing what he does, and wakes up every morning and startes calling radio stations, retail stores and books his own tours. It's the love and the passion for the game that motivates him everyday.