We are proud to announce our newest Concert Ticket Giveaway contest!
WIN 2 TICKETS to ANDY's concert at the Dolby Theater on May 3rd!
Just answer the question correctly and we will pick 3 winners (at random) who will WIN 2 tickets each!!!! You must live in the Los Angeles surrounding areas to win! Transportation NOT included.
Question: WHAT'S ANDY's REAL FULL NAME?
winners will be announced on Sunday April 27th
VISIT US AT WWW.FACEBOOK.COM/ARMENIANPULSERADIO and cast your answer!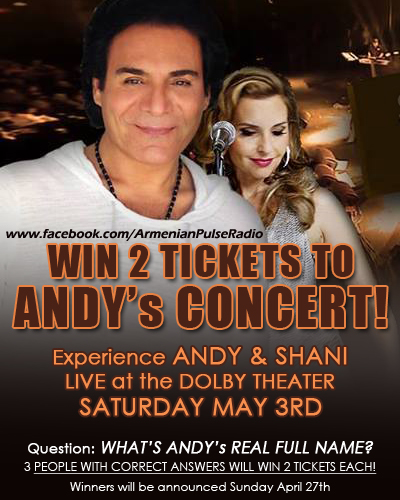 If you would like to not wait for the concert and Purchase your ticket immediately, please visit TICKETMASTER.COM by clicking on THIS LINK HERE > TICKETS
or you may call the following numbers (818) 434-9918 | (323) 308-6300 | (310) 807-2060