YEREVAN—Armenia's public television broadcaster AMPTV announced on New Year's Eve that beloved Armenian singer and entertainer Aram MP3 will be representing Armenia at the Eurovision 2014 song contest, which will be held in Copenhagen, Denmark, this year.
Aram MP3 is not only a singer, but also a popular comedian in Armenia. The singer is mostly famous for his live performances. He also has a very unique style of covering international hits.
AMPTV decided that Aram MP3 was the best and the strongest choice among their candidates.
The song Aram MP3 will perform at Eurovision song contest has just been released and the title is "Not Alone"! Video below, we hope you enjoy it and see it as a strong viable effort to win Eurovision this year!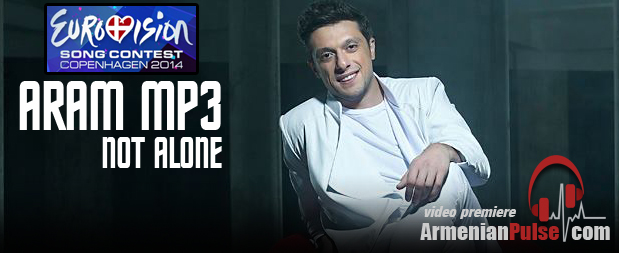 Aram's Biography
Aram Mp3 / Aram Sargsyan/ born in Yerevan, on April 5, 1984, is an Armenian singer-songwriter, comedian and showman.
Being simply in love with a stage he was much involved in school activities, choir singing and theatrical performances since early childhood. Though always dreaming about big stage, Aram chose a profession of pharmacist, graduating the State Medical University Of RA. Active student life in different comedy contests brought him to "32 teeth" TV Show , where he did stand ups and parodies of famous singers. During one of the shows his colleague did a joke calling him Mp3, after that everyone started to call him Aram Mp3. That's how he got his nickname. The same year on 2007 he became the winner of the most popular TV Show of The First Channel of Armenia "2 stars".
Developing his singing talent Aram MP3 began to perform live in jazz and blues clubs of Yerevan, record songs and shoot music videos.
Famous TV Formats such as "X- Factor", "Armenian Idol", "My name is", "Power of 10" were hosted by him and brought him more fame.
Now he is a member of the most popular "Vitamin Club" project, a comedy show broadcast weekly on Shant TV. Every month he gives live concerts with bands in popular music halls of Yerevan singing unique covers of famous hits and his own singles.