Angela Sarafyan has become very noticed for her role as Tia in the Twilight Saga's Breaking Dawn Part 2, gaining quite a following among Twilight fans.
Of course, this is in addition to an ever growing body of work that often garners very positive responses.
One of her earliest roles was on the TV series Judging Amy (2000). She then went on to do guest roles on series such as Buffy The Vampire Slayer (2002), The Shield (2004), The Division (2004), 24 (2006), and CSI:NY (2006).
For quite a while she was often remembered for her appearance in a Cingular Cell Phone commercial, often referred to as the "Cingular Umbrella Girl".
Between 2007 and 2009, Angela guest starred in episodes of Cold Case and The Mentalist. She was involved in several feature film productions: On The Doll, Kabluey with Lisa Kudrow and Teri Garr, A Beautiful Life with Dana Delany, and The Informers with Billy Bob Thornton and Mickey Rourke.
For 2010, Angela had a recurring role in the Fox TV series The Good Guys, she was widely noticed in a State Farm Insurance commercial, and appeared in several web series such as Sex Ed.
In 2011, Angela appeared in A Good Old Fashioned Orgy and guest starred as an evil mastermind on the Criminal Minds season finale.
For 2012, Angela is helping to promote the Twilight Saga's Breaking Dawn Part 2, has also starred in a new web series produced by Taco Bell titled Let's Big Happy, and guest starred on Law & Order: Special Victims Unit. She also worked with Marion Cotillard in the film Nightingale
This past weekend, her latest film 'Lost and Found in Armenia' was released in theaters to a rave audience. Enjoy our exclusive interview with Angela Sarafyan!

Thank you so much for joining us today Angela!
Hi Harout. Thank you for having me!

Your new movie 'Lost and Found in Armenia' just released in theaters this past weekend. I know every Armenian is extremely excited to see this film and it's already done very well for it's opening weekend. Can you tell us your experience working on this film, filming in Armenia, and working with these particular Armenian actors.
I love hearing about how people are responding to the film. All I hear is that there are nonstop laughs in the theaters just filled to the last seat. I have to say that was my goal doing this film. I really wanted to make a film for the Armenian community, working with the talents from Armenia and especially in Armenia. What a gift it really was. It was the first time I returned to Armenia since my family immigrated to Los Angeles; the soul of that country lives on its land and you feel it the minute you land. You see Mount Ararat literally in the airport and somehow your heart and soul knows your home. It was one of the most emotional and fulfilling experiences of my life.

I can just imagine that feeling as I have never been to Armenia and it is a dream of mine to be full filled one day soon! In 'Lost and found in Armenia,' You star opposite Jamie Kennedy, who is a well known American actor. Our culture surely was new to him, how do you think he absorbed the Armenian culture, can you tell us a funny story or two?
Jamie loved the cows and the cafe's. He was so confused and scared and somehow it was hilarious. My brother came along with me to visit Armenia for the first time, and Jamie would literally fill our ears with his anxiety while we were eating Mantee, his favorite. Segafredo was his favorite place to drink coffee, near Opera, a beautiful location in Armenia, and his ipad was his best friend with which he made the funniest videos. Oh, and something very sweet occurred with Jamie and his driver, they really became very good friends, but his driver couldn't speak a word of English and obviously Jamie didn't speak Armenian, and there were tears in his drivers eyes when Jamie left. Jamie was sad as well. It was the funniest thing seeing them talk to each other, you wouldn't believe this, but they understood each other perfectly, with gibberish as the common language.

That is very sweet and touching! Thanks for sharing that Angela! We saw the film in the festival last year and we absolutely loved it and loved your performance!
Really? Thank you. That means so much to me. I'm so happy you loved it.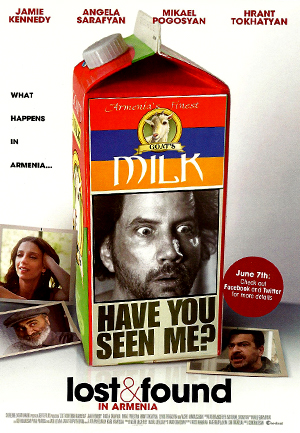 One of the hardest careers to break into and yet you have been very busy in Hollywood, between national commercials, multiple television series and now starring in movies. How satisfied are you with the way Hollywood has welcomed you?
I have to say my relationship with Hollywood has been occurring for a while, and it takes a lot of hard work and perseverance. Its not easy, and it certainly didn't happen over night and it continues to be a struggle. But I know that acting, being a part of great story telling is really what I've always wanted since I was a little girl and it's worth every second. This wonderful actress whom I recently wrapped a short film with called 'Night Vet,' said to me, "I've always played, when I was six, and now I'm 86 and I still play." How perfectly put, I completely live by that, and it is very true for me. To always play, because that's what we do, we play characters, we act.

That is beautiful and well said! In 2012, you had a role in the Hollywood blockbuster film 'Twilight Saga's Breaking Dawn Part 2' Now how cool was that?
Being a part of that franchise was unreal.

I'm sure it was, How did it come about that you were cast in the role of Tia, the Egyptian Vampire? Can you give us some insight?
It was really very simple (at least that is how it seemed to me) I had an audition, I went in, and then I received a call and I was cast as this Vampire. I learned a lot working on this film both about this business and myself.

At what age did you know you wanted to be an actress? And what steps have you taken to have come so far in your career?
I've always known. It's just what I did, there are kids in school who like to color or draw, I liked to tell stories, exaggerate them, act them out when the teacher would ask us to tell stories about our summer vacation. I wouldn't just stand there talking about the event, I would act the whole thing out, cry, laugh, get angry, act every part, (my dad, mom, cousins) and then sit at my desk embarrassed that I just did that.

What advice can you give other young aspiring Armenians actors?
The most important thing is to follow your heart. You should really ask yourself why you want to do what you chose to do, and when you really know the answer, honestly, then I think you have follow that dream.

Can you tell us what we can expect from you next Angela? what are you working on now?
A film I did called "Paranoia," will be out this summer in August, it's a really cool psychological thriller which I think a lot of people will enjoy. Another movie called "The Immigrant," will be out I think the end of this year or the beginning of the following year. So look out for them. They are very different from one another and then also different from "Lost and Found in Armenia."

That is awesome, looking forward to all those projects! Thank you so much for your time Angela, it's been a pleasure! But before we go, we'd like to ask you some fun facts questions!
Thank you Harout for making this time for me.

Oh it was my pleasure, thank you! Now on to our fun facts! Your favorite actress and actor?
Can I make a list?

Sure!
Al Pacino, Robert De Niro, Marlon Brando, Dustin Hoffman, Ben Gazzara, Ellen Burstyn, Anna Magnani, Meryl Streep and so many more…

Some of my favorite actors are on that list! Your favorite movie of all time?
There are so many. Currently, I love: "Moonrise Kingdom:"

Your favorite Armenian food?
Dolma and kyufta (my grandma makes the best, I guarantee)

I wouldn't doubt it! 🙂 Well Angela, thank you again so much for joining us today, we look forward to your upcoming projects and really excited for where you are in your career. Best of luck from all of us at ArmenianPulse.com
Thank you Harout and Armenian Pulse!