Luara is an up and coming recording artist, extraordinary singer, dancer and pianist. Although she's been singing and performing since she was four years old, you're most likely familiar with her because of her 2009 Junior Eurovision performance of "Barcelona." Prior to that, she competed in and won several singing competitions in Russia, including the "Voices of the 21st Century" and the "Grand Prix of the International Contest."  Luara's talents and accomplishments in her home country have led her to pursue a new set of endeavors.
In 2012, Luara and her family moved to Los Angeles to further pursue her recording artist career. Since the move to LA, she has been in the recording studio working on her first English language album. Luara's first single, "Fire in Me" is available now, and her highly anticipated music video will be released on January 25th, 2013.
For more information on Luara and upcoming events please visit her website luaramelody.com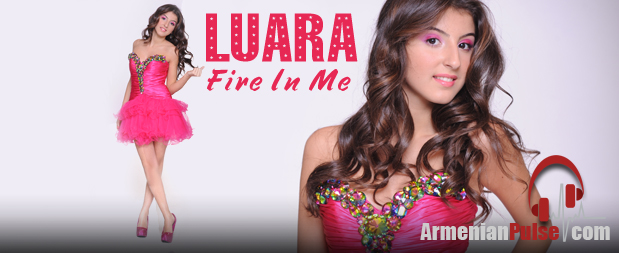 Luara is being managed by Armenian artist Mihran Kirakosyan.
Here is a clip of Mihran Kirakosyan, Peter Stengaard and Luara in the studio!