On Wednesday September 19, two days before it hit theaters, the highly anticipated movie My Uncle Rafael had it's world premiere! Hosted by Yerevan Magazine, the movie was treated with traditional Hollywood flair: Red Carpet arrivals, mingling with the stars and of course a luxurious after party!
This fabulous event took place at the famed Hollywood and Highland on the second floor of the Chinese Theater 6. Distinguished guests were invited to watch the highly anticipated, multiple award winning movie, My Uncle Rafael starring Armenian/Iranian actor, writer and director Vahik Pirhamzei, American leading actors, Missi Pyle, John Michael Higgins, Anthony Clark, Rachel Blanchard, Carly Chaikin and Anahid Avanesian. My Uncle Rafael is written by Vahik Pirhamzei and Scott Yagemann and is directed by Marc Fusco.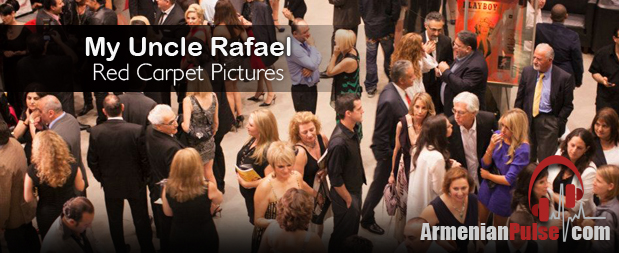 Besides the cast and crew, other notable guests who attended were some of the biggest names in Armenian and Persian entertainment! Armenian King of pop music Armenchik, Legendary Iranian singer/songwriter Dariush, Armenian/Iranian singer Andy Madadian alongside his wife, singer/songwriter Shani Rigsbee, Armenian actors Lusine Sargsyan and Rafael Danielian, Actor Ken Davitian, Artist/director Vahe Berberian, Persian pop duo Kamran & Hooman along with some of the best actors, writers, directors, producers and TV personalities. It was certainly a night of entertainment heavy weights!
After the movie, which was received very well by the audience, everyone was invited to the posh Rolling Stone LA lounge where guests had a choice of a number of Uncle Rafael specialty drinks, courtesy of Grey Goose Vodka! The rest of the night was filled with music, mingling, picture taking and of course star adoration. It was a real success!
My Uncle Rafael opened to the general public two days later on Friday September 21st to an astounding 3 days of multiple shows sold out at certain theaters. The opening weekend proved to be a success and we now wait for word of mouth to spread. If you haven't seen the movie yet, we highly recommend it! READ OUR REVIEW HERE! Go out and support this history making film, the first Hollywood movie with a lead Armenian character! Uncle Rafael needs your help so the movie gets a shot at wide scale release across the country and beyond. CLICK HERE FOR SHOWTIMES AND THEATERS!
SCROLL THROUGH SOME OF THE PICTURES OF THIS EXCEPTIONAL NIGHT!