By Lisa Kalandjian
Anahid Avanesian and her husband Vahik Pirhamzei are one of the best-loved and most accomplished couples in Armenian entertainment today. With a string of hit plays and TV shows behind them they now take their talents to the silver screen with the release of My Uncle Rafael, the first ever American movie to feature an Armenian lead character.
The story is about Rafael who is given the title of Uncle by the many patrons of his son's coffee shop who continually seek out his sage advice. Noticed by a TV Producer, she has the idea of a reality show in which Uncle Rafael would live with a dysfunctional American family for a week in order to help them with their myriad of problems. American and Armenian cultures meet head on and the results are both hilarious and heartwarming.
We are delighted the lovely and talented Anahid Avanesian has taken time out of her busy schedule to join us at Armenian Pulse and answer some questions for us about My Uncle Rafael.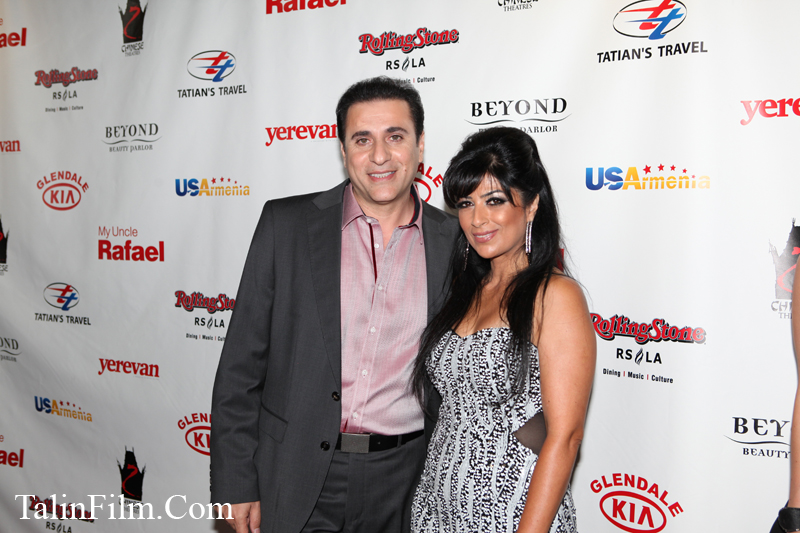 Vahik Pirhamzei and Anahid Avanesian at the World premiere of My Uncle Rafael

The movie was based on the three award-winning Armenian stage comedies that featured the character of Uncle Rafael. What was your reaction when you realized the movie was going to become a reality?

It was like the joy you get that Christmas morning when you open your gift and realize finally, finally Santa brought you the right gift this time. It's every actors dream to reach a wider and bigger audience not only to showcase his/her talent but to tell a story and I feel we had reached that goal today.

How different is it acting in a movie to acting on stage? And do you prefer one over the other?

The difference is in the amount of butterflies doing a 360 in your stomach… in the movie you have a chance to do your scene over and hopefully if you are good after a few takes you move on, however in the play you have to give your best each and every moment, you cannot go back and every minute you should be present and be LIVE… one more thing with the play is that you get the instant gratification from your audience however with movies the wait is brutal.

In My Uncle Rafael you play the part of Linda, Hamo's wife and Uncle Rafael's daughter in law. We have the impression watching the movie that Hamo is a bit of a lovable rogue and the marriage works mostly because Linda is such a laid back character. Would you say that's an accurate description?

I think Linda's secret is in her ability to see the layers underneath of each person, she knows Hamo inside out and although the out may not be promising, she adores the inside and is waiting patiently to see the day the latter will emerge. She does not give up on the love and value of marriage and with the help of her father in law, will one day bring the real Hamo back home.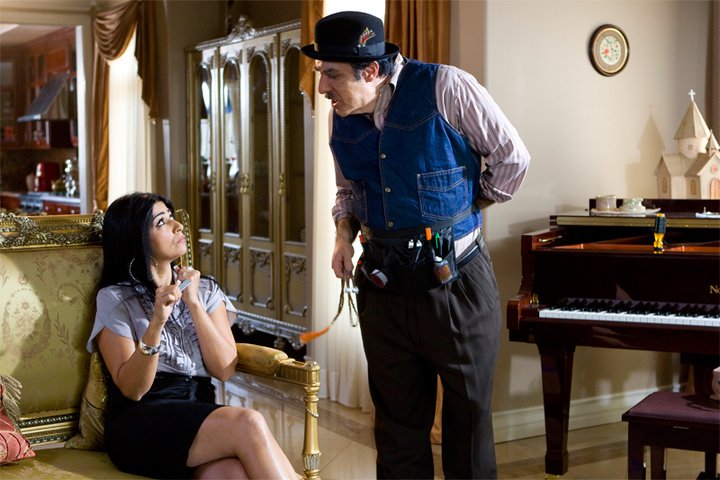 Anahid Avanesian and Vahik Pirhamzei in My Uncle Rafael

Both Uncle Rafael and Hamo are played by your real-life husband Vahik! Hamo looks like Vahik, Uncle Rafael however is a very convincing 71 year old man. How did it feel for you seeing your husband as this character for the first time?

I love my husband Hamo (and Vahik more) however I ADORE Rafael, when I see him I see a totally different person than Vahik, by looking at him, he brings the same feelings ,so tender and sincere, just like the one I felt looking in to my real father in law's eyes…. I trust him, respect him and feel connected just like a real family should.

The filming I believe was complete in a remarkable 18 days, that would have given all of the actors little time to get to know each other, despite that you manage remarkable chemistry, how did you pull it off in such a short time frame?

A few factors make that happen, first is the amount of professionalism, which our great cast had no shortage of, second was the immense amount of kindness that we felt for each other, maybe because this was a comedy, or because family values were highlighted throughout the script but definitely the love and respect was all over the place for which I am so grateful.

What has been the most rewarding and memorable moment of the entire process of bringing My Uncle Rafael to the big screen?

Hope, Faith and Love. I knew making a movie was not going to be easy however the obstacles we faced were definitely very surprising, I had so many conversations with the almighty during this process and during these trying times and then I finally got it. If he puts you in it he will walk you through it, and last but not least the love we received from our family, our friends and our community is so powerful that no matter how big the barrier we were sure we would have parted the sea at the end.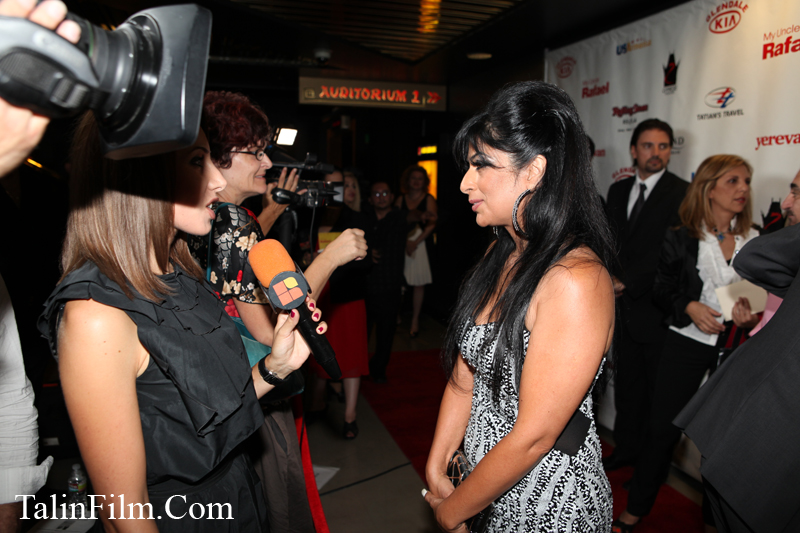 Anahid Avanesian on the Red Carpet at My Uncle Rafael Movie Premiere

When I see you acting you have such a lovely natural style and charm, you always bring a smile to my face. How did you become an actress? Was it something you always wanted to do?

Thank you for the great compliment, there is nothing more pleasant than to make people laugh and this has always been my quest. I think if we can make an impression in someone's life why not make it a good one. I think I started acting when I was 6 or 7, not that I was discovered or had an agenda to pursue it as a career but just for pure entertainment, being the last of three and the only girl, I needed to keep myself busy, so I would stand in front of the mirror and transform to many different characters that were surrounding me, some of them nice and some not so nice (sorry principal).

My Uncle Rafael is a hard act to follow, but do you have any plans for more movies in the future?

One of Vahik's best qualities is that his mind never rests, he does not wait to reach the destination, he is always creating different journeys and enjoys the ride, so yes there are many projects that we are working on and cannot wait to share more info in near future.

Well we don't want to take up too much of your time, so let me just say a heartfelt thank you for answering our questions, and we wish you the very best with My Uncle Rafael. We are sure it's going to be a big hit with moviegoers everywhere!

It was my pleasure, thank you for being the eyes and ears of the community and letting us connect with them via this wonderful outlet called ArmenianPulse. May the pulse of Armenians be heard louder and forever.

To all our readers, make sure you support My Uncle Rafael, not just because it's a great movie, but also because it brings a wider awareness to the great Armenian culture. I personally can't think of anyone who wouldn't benefit from having an Uncle Rafael. 🙂
Please click here to visit the official website where you can view the trailer, and find out show times.