International and Persian/Armenian pop star ANDY MADADIAN'S August 4th concert in Los Angeles could only be described as MAGICAL!  The world famous Greek Theatre was host to this extraordinary night that featured some of the worlds most distinguished musicians and artists of today.
There was a magical vibe in the open air at the Greek, where the performers radiated maximum energy! This energy was resonated to over 6,000  fans who simply could not sit, as they all danced in the isles. ANDY performed flawlessly, his major hits of the past and recent #1 hits like, 'HANA,' 'CHE EHSASEH GHASHANGI' and of course his newest dance hit 'DJ' with his beautiful and talented wife SHANI RIGSBEE. ANDY also performed a few popular Armenian songs to an astounded Armenian fan base that seamed to be more than half the venue. ANDY has been consistently creating hits for decades now and his ability to attract all races to his music is spectacular.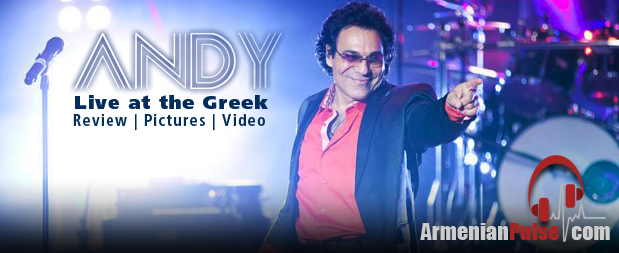 On this night, ANDY and SHANI also introduced their latest project with a message of peace, hope and unity. They introduced to the stage world renowned artists LIEL KOLET of  ISRAEL, EHSAN AMAN of AFHGANISTAN, 10  year-old piano virtuoso and composer,  JAHAN RAYMOND and to a surprised and delighted audience, Classical Singer, SUNG BONG CHOI of KOREA! What better way to add to this magical night then to have these exceptional artists sing the debut of the powerful song 'WE HEAR YOUR VOICE.'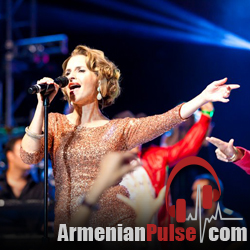 Written and Produced by SHANI RIGSBEE, through CHEROKEE MUSIC GROUP and her partnership with ANDY MADADIAN,  'WE HEAR YOUR VOICE' will be released Internationally  in September 2012 . 'WE HEAR YOUR VOICE'  exudes solidarity with the great Voices of the World giving "voice" to the People.  The goal is to highlight other Nation's great stars and idols and to inspire their fans and followers to heal the divide between nations  thereby  transcending politics and borders  and finding common ground in humanity itself.
We will have more information on the release of the video and the digital download of this song soon!
This concert was extraordinary, magical and simply breathtaking, We want to thank ANDY, SHANI and all that were involved in making this such a spectacular night!
If you missed the concert, we have provided a few images, special thanks to Navid Soheilian (Navidstudio.com) and Rafi B. from Rafi B Film (All Non-Watermarked Shots provided by Rafi B Film). We also have a very cool video of the hit song 'DJ' from the concert!
Enjoy and please LIKE and SHARE with the links provided to your right!
Click on the image to open large view