UPDATE::: This contest is now over, we want to congratulate Nare Gevorgyan, Arin Enjilyan and Armig Dadourian, you all won 2 tickets each to see Yanni at the Nokia Theater on July 20th! Congratulations!
We are proud to announce that we are giving away 3 pairs of tickets to Yanni's concert, 'An evening with Yanni' at the Nokia Theater in Los Angeles on July 20th 2012. 3 lucky fans and their guests will have the chance to see one of the most inspirational and talented musicians of our time. Yanni has sold out events all around the world and this concert will be no different! We at Armenianpulse.com appreciate every visitor and fan and we would like to give back for all your support. We will periodically have these types of giveaways every other month, so please stay tuned for more!
Please follow the rules below and the 2 steps to enter!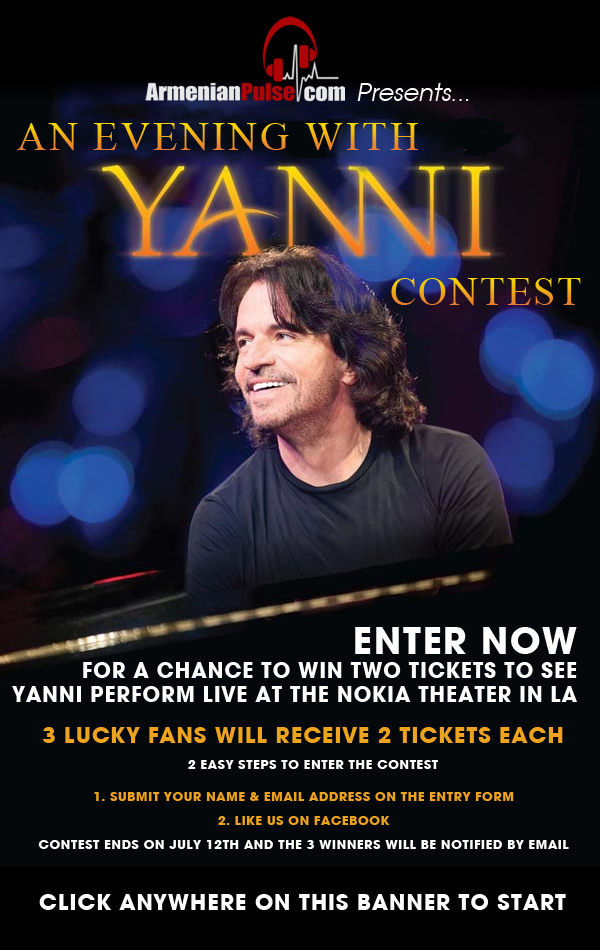 Contest Info and Rules:
All Entries must 'LIKE' the fan page of Armenianpulse.com
All entries must fill out the form with correct name and email address
Limit one entry per name (the winner will have to show ID when they pick up tickets, each winner can bring ANY 1 guest)
3 winners will be drawn at random from all submitted entries and announced on July 13th 2012
Each of the 3 winners will be awarded 2 Tickets to attend "An Evening with Yanni" on July 20th 2012 at the Nokia Theater in Los Angeles
Winners will need to pick up their tickets in person on the day of the concert from the Nokia Theater Box Office at Will Call. All winners will be required to show ID.
In association with GoldenVoice.com
Terms & Conditions
NO PURCHASE NECESSARY.
Contest begins July 3rd, 2012 and ends at midnight on July 12, 2012. Winners will be notified by email on July 13th.
Open to all residents of the US at least 18 years of age
Winners are solely responsible for all transportation and parking fees associated with this event.
Thank you for participating and best of luck to you!
Armenianpulse.com Management