UPDATE::: Congratulations to Harut and Elvina Sharnazyan for winning our 4th Concert Giveaway contest. Last night they saw an incredible performance by Harout Balyan!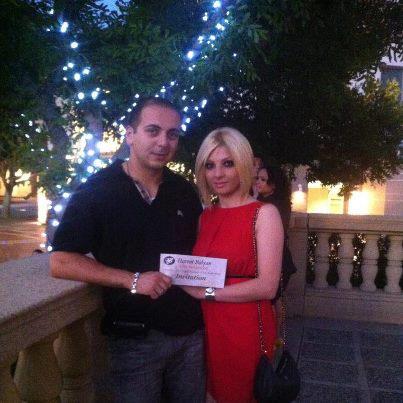 UPDATE::: Concert Ticket Giveaway contest! LIKE, SHARE or Comment this post to be entered for a chance to WIN 2 FREE tickets to this concert! Winners will be announced Monday October 8!
Armenian singer Harout Balyan has been on a very fast track to stardom! He has racked up hit after hit in such a short amount of time. Harout Balyan's latest CD is a sentiment to his flourishing success.
'Qez Em Sirelu' was released just this past spring, featured some of the most memorable songs any Armenian artist has ever produced. His massive hit with American songstress Chioma, titled 'Qez Sirum Em / Forever' is one of the most requested and loved songs in this decade. Just two years ago, Harout Balyan and Chioma performed their beautiful duet in front of thousands of adoring fans at Hamalir in Yerevan, Armenia. ( See Video Below)
Just when you thought nobody can top that song, 'Qez Em Sirelu' revealed yet another powerful duet, this time with the stunning vocals by Klara Elias. 'Havatum Em (I will never leave you)'  is the song in question and with this song, we have come to expect Harout Balyan to deliver to his fans nothing but the best! Harout Balyan also released the title song to his CD with the single 'Qez Em Sirelu', a more upbeat track and true to Harout Balyan form.
With all this said, we are extremely excited to announce that Harout Balyan will be LIVE IN CONCERT this coming October 14th at the Pasadena Civic Auditorium! He will no doubt bring his best to the stage performing all his hits, including the new hits mentioned above. Yes, Chioma and Klara Elias will be live on stage with Harout performing their beautiful duets together, this is something you don't want to miss!
All the details of this awesome concert is below and we hope to see all of you there! Please Like and Share with your family and friends!, Thank you!
You can also find more information at Harout Balyan's website www.haroutmusic.com or you may call 818-265-0506 and 323-661-6500