Music Box with Maria Cozette airs the latest in Armenian, American, and International music videos. Music Box is the only one of its kind on an Armenian television network. The show is in English and provides a platform for both established and upcoming artists. With an accomplished and flourishing career in entertainment, Host and award winning Singer/ Songwriter/ Producer Maria Cozette created Music Box with the objective to engage a youthful audience.
Maria's previous guests:
Beno Blanko (Actor) | Vahe Berberian (Artist, Comedian, Author) | R-Mean (Hip Hop Artist) | Lory Tatoulian (Actor) | Apeh Jan (Hip Hop Artist) | Misho (Armenian Hip Hop Artist) | A.Chilla of the group 3.33 | Knoup Tomopoulos of the band Viza | Artyom Manukyan of the Armenian Navy Band (Cellist) | One 2 (Hip Hop Artist) | Armen Aloyan (Armenian Singer) | Alex Kalognomos (Actor)
Schedule
New Show every Thursday 7 p.m
Re-Broadcast every Friday 6 p.m. | Monday 10 p.m. | Tuesday 8 p.m.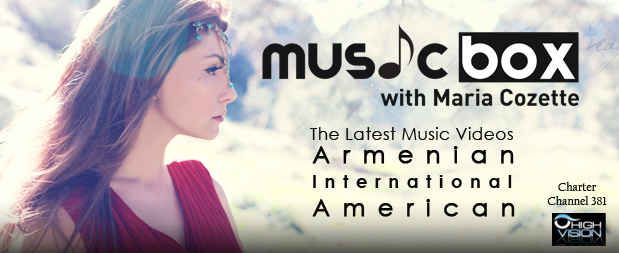 Tune in every Thursday at 7 p.m. on the High Vision Armenian Television Network
Click on the icons to get to the Music Box Fan page and also Maria's musical Channels