By Lisa Kalandjian
Gyank, the latest play by Vahe Berberian opens on Friday, March 16th 2012 at the El Portal Theatre, North Hollywood, and shows for ten dates with the final show on Sunday, April 1st. We are very happy to have the opportunity to interview Vahe about Gyank, his first play since the acclaimed Baron Garbis in 2008.
About Gyank
In this moving play set in current day Los Angeles, the central characters are a married couple, Haig and Sona, whose relationship has reached an impasse. Going back and forth in time, the play juxtaposes the past, a family on the brink of a break down, with the present, where Haig lies in coma. Gathered around Haig's comatose body are his wife, their two daughters and his mother. As the story unfolds we watch the members of the family deal with the circumstances with a plethora of emotions. Often resorting to humor they each cope with the situation in their own way.
"Once more, the playwright offers a work where tragedy and comedy meet at a fragile crossroad, bringing us another look at what it means to be human."

Thank you for joining us Vahe, we are delighted to have the opportunity to talk with you today. You recently hosted Genats, a fundraising event for your new play Gyank. It was a very successful event in which you took to the stage to paint a massive canvas live in front of the 700+ people that attended. Can you describe the evening for us, and how it feels to do a "live painting" in front of a large audience?

I have always welcomed the presence of friends in my studio when I work. It's a source of inspiration, to be surrounded by friends, listen to music, have a drink and create. For me, the act of painting is almost a performance in itself. It's almost like dancing. I am very physical when I paint and I process everything that happens around me.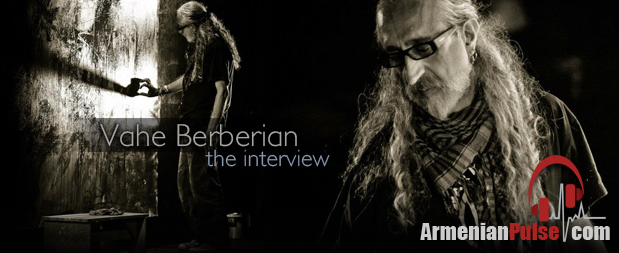 Photos by Raffi Hadidian

It seems Gyank will be a deeply emotive play, do you deliberately try and explore intense emotional scenarios in your creative works? Or is just a natural consequence of your creative process?

In all of my plays I explore intense emotional scenarios. That's what drama is. It is all about conflict. And the more you delve into it the more texture you will find. You have to get your hands dirty in order to peel away the layers and get to the core of issues. So I guess it is a natural consequence of the process.

What was the inspiration for Gyank?

An experience I had years ago when one of my friends went into a coma. Also, recently, I have been contemplating about the fact that there is a very thin line between people who are in actual coma and those who live lives of quiet desperation and go through the motions of living. Aside from this, I have always found relationships fascinating: relationships between spouses, siblings and family members in general.

Gyank has a predominantly female cast, was this a conscious effort on your part? Or was it just dictated by your choice of storyline?

Maybe both. I always wanted to write a play with strong female characters and this was the perfect vehicle for it. It is ironic that I have always been surrounded by women and yet most of the characters I have put on stage are men. So I'm glad I got a chance to put myself in women's shoes and experience a wide range of feminine emotions.

Can you tell us what you've been up to in the last four years since the release of your very successful play Baron Garbis?

After Baron Garbis I directed Out of the Cage, then opened my latest monolog Sagayn, and went on a tour. I have been touring for almost three years now all over the world. In the meantime, I have painted, I have finished Gyank and written another play in English.

You have so many creative talents it's awe inspiring. You are an author, a playwright, an actor, an artist, and I'm sure I've missed some others. Do you have a favorite creative outlet among all of these? Or are you driven to all of them in equal measure?

I think I have a schizophrenic personality. One part of me is the perpetual entertainer, who is always looking for the spotlight, and the other part of me is the solitary writer, painter, who shuns attention and wants to be left alone. All my life I have tried to reconcile the two and I think after all these years I have found a way to do so. I am lucky, because I have learned how to juggle.

In all your creative endeavors I feel that you are, above all other things, a communicator. What is it you aspire to communicate to your collective audience?

You are absolutely right. I am a communicator and one thing that I love sharing with my audience is a good story. There is nothing better than a beautiful story that can make you laugh and cry at the same time. The French call it Comédie larmoyante which translates to "tearful comedy » in English. But in my case, I try to sift the sentimentality out of the genre.

Going back to Gyank, what are you hoping your audience will take away from the play?

I am hoping that the audience will be entertained, will enjoy the story and get emotionally involved. I am hoping that I will be able to supply food for thought and make my audience think, feel, laugh and cry all at the same time. As I said, earlier, first and foremost I need to entertain my audience, but I have to do it in an intelligent way.

The lead female role in Gyank is being played by distinguished film and TV actress, Anne Bedian. This is Anne's first stage performance and also the first time she has performed in Armenian. What was it about her that you felt made her the perfect fit for her role as Sona, and how is she rising to the respective challenges she's been presented with?

Anne is a fantastic actor and her intensity is just incredible. At first she was a little apprehensive because she had never done live theatre, but after the first month, she found her command of the stage and has been very comfortable in Sona's shoes. Anne is also a trooper and a good ensemble player. We lucked out with Anne.

There is an interesting quote on your website which reads "Your most important creation is yourself." Vahe Berberian. Does this mean you believe we are all masters of our own destinies much more than we realize?

I would like to believe so, even though it's impossible to master our destinies completely. The key is to try and never cede. I believe that you have to take on the responsibility of chiseling yourself throughout your life. I'm not saying we are blank slates. There are so many factors that determine our course of life, but you can not let life push you around.

I recently read a post on your blog entitled "Where is my home". The post talks about how you are a child of the diaspora, and that feeling completely at "home" for you is something that may always be out of reach, but in the end you reach the following, beautiful conclusion….
"Maybe its time for me to stop searching for a place I can call home and accept the fact that I will live with this anomie for the rest of my life. Or maybe every once in a while I should remind myself that home is where my emotions are, and take up residence in an old lemon tree, in a book resting on my nightstand, in Albinoni's Adagio in G Minor, or in the heart of someone I adore."
Would you care to elaborate on the consequences for Armenians in general, and yourself in particular, of being children of the diaspora?

As a child of the diaspora, I have always tried to find a harmony between all the cultures that have influenced me as a human being and as an artist. I was born in Beirut, lived in Europe, off and on, then became a Canadian landed immigrant, and a year later ended up in Los Angeles, where I have been living the past 36 year. My historic background comes from Armenia, and yet as a western Armenian, my cultural make up comes from Istanbul. As you can see, there are many influences coexisting in me, but the dominant presence has always been the love of the Armenian language and history, which plays a major role in whatever I do, even when I am writing in English.

Are there any other thoughts you would like to share with your fans regarding Gyank, or any of your other creative endeavors?

I just want to say that I am proud of the work our theatre company has done so far. I love communal work and the process of creating something with a group of friends. You can top this only by having a big number of people watch it and appreciate the work you've done. So I hope people will join us on March 17, which is the Gala Night, and celebrate with us after watching the play. I also want to remind people that the play will be performed only 11 times, so the sooner they get tickets the easier it will be to find seats.

We would like to thank Vahe for taking the time to talk with us, and we wish him the greatest success with his new play Gyank. We are really looking forward to seeing it and we encourage everyone to reserve your seats as it will only be on a limited run of 11 shows.
Gyank – A Play in Armenian
Written and Directed by Vahe Berberian
Show Dates & Information
El Portal Theatre
5269 Lankershim Blvd. North Hollywood, CA 91601
March 16-April 1, 2012
Thursdays, Fridays, Saturdays at 8pm. Sundays at 7pm.
Tickets will be on sale through www.itsmyseat.com/gyank
For more information call (818)518-8009