By Lisa Kalandjian
On Sunday, December 18 Serouj Kradjian and his lovely wife, internationally renowned Opera singer Isabel Bayrakdarian, will be making their duo recital debut at the Occidental College in Los Angeles. Serouj is a widely acclaimed concert pianist and recording artist, composer, professor of music in Madrid, Spain, Artistic Director and Pianist of the Amici Ensemble, and if that isn't enough he also speaks six languages! We are delighted to have the opportunity to interview him.

Welcome Serouj and thank you for joining us at Armenian Pulse. You began studying the piano at the age of 5, and by age 7 you won the National Competition for Young Musicians in Canada. ( I also starting studying piano at the age of 5, and by age 7 I was on Associated board Grade 2 out of 7 lol)…how is it possible you managed to accomplish so much in such a short space of time, and at such a young age?

I have to thank my parents, who discovered my talent for music very early on and for having the patience to make a 5-6 year old practice, when he rather play soccer outside with his peers.

What was the first piece of music you fell in love with and inspired you the most when you were a child?

Hungarian Rhapsody nr. 2 by Franz Liszt

The repertoire on your website includes a wide-range of composers at opposite ends of the creative spectrum from the technically rich and complex Bach, right through to the sensual, romantic Debussy. Do you play the music of composers you love the most? Or is your repertoire dictated more by what people want to hear you play the most?

A performer should definitely feel at home with most of the repertoire he has chosen. There should be some room for special requests by organizer but definitely not when they don't suit your taste.

You have performed all over the world at countless venues from New York (Carnegie Hall), to Paris (Salle Cortot). Every venue has its own character and acoustics, is there any in particular that stand out for you as the perfect place to perform a piano recital?

Wigmore Hall in London.

Are there any venues you haven't yet visited that you would particularly like to perform in?

Walt Disney Concert Hall in LA

You have worked with many renowned musicians, from opera singers to violinists. Is a solo performance as exciting an experience for you as performing with other accomplished musicians?

They're very different in many aspects but each type of performance has its own charm as long as you feel comfortable doing it. In a solo performance it's your show, plain and simple and you do your best to take along the audience on a musical journey with you, and in a chamber music setting, the musicians on stage, at their best, are creating magic together.

Can you tell us about your own work as a composer? And how does it feel to hear your music being performed on stage?

Composition is a relatively recent passion of mine and it commenced with my research on and orchestrations of the Armenian folksongs of Gomidas. My composition style is definitely influenced by my own experiences as a performer, the places I've been raised and countries I've spent time in. So I feel equally at home with Liszt Rachmaninoff, or Stravinsky as with tango flamenco, and Arabo-Andalusian muwashahat For me the inspiration for composition starts with improvisation. That way I can start creating something which is truly mine. For the next few years I have some commissions lined up for chamber music, orchestral music, and ethnic-roots music. Film soundtracks are another direction I eventually want to take.

You have released several CD's both as a solo artist, with other musicians, and with Isabel Bayrakdarian. Can you tell us a little about your discography and any plans you have for future releases?

As a soloist, I recorded the complete Transcendental Studies and the Piano concerti by Franz Liszt on the Warner Music label, the complete Sonatas by Robert Schumann on the Haenssler Classic label. As a chamber musician, amongst numerous recordings that I've done, two stand out: "Armenian Chamber Music" a CD entirely devoted to Armenian composers received a Juno nomination this year, and the songs by Pauline-Viardot Garcia recorded with my wife, won the Juno as Best Classical Album. As a composer-arranger, my "Gomidas Songs" with Isabel and the Armenian Philharmonic received a Grammy nomination, couple of years ago.In the next year a recording exploring classical music inspired by the Middle East, and a recording devoted entirely to my compositions will be released. I must also not forgot the couple of tracks I cowrote with Canadian electronica band Delerium , based on Armenian sacred music, the remix of which received a Grammy nomination and over 2 million Youtube hits.

Can you tell us about the program you will be performing with Isabel on December 18th at the Occidental College in Los Angeles?

2011 is the 200th birth anniversary of Franz Liszt, and we start with three of his songs. This is followed by a brilliant solo piano piece, based on Figaro's aria from the "Barber of Seville", following which, Isabel will sing Rosina's aria from the same opera. We will end the first half with three charming songs by Aram Khachaturian. In the second half we start off with three gems by Gomidas followed by my own composition dedicated to him.The rest of the programme is an exciting journey from Spanish folk-songs to Cuban rhythms and tango!

That sounds lovely, I'm really looking forward to it! What is the best aspect of being able to perform recitals with your wife?

The rehearsal process is very casual and organic because we practice at home. And therefore, the performance feels spontaneous,because there is mutual trust,respect and of course love.

You both travel a great deal, is it difficult to balance family life with the demands of your musical careers?

Yes. It's like riding a bicycle you always have to pedal furiously to remain calmly balanced.

And finally… if you were stranded on a desert island with nothing but a CD player, which three CD's would you want to have with you?

Only three? Very difficult to choose amongst so many. I would go with J.S. Bach: Goldberg Variations as played by Glenn Gould (1981), Francis Poulenc's "Dialogue of the Carmelites", Gustav Mahler's Symphony no. 9.

Thank you so much for joining us Serouj and giving us the chance to ask such searching questions 🙂 we are really looking forward to seeing you both perform in Los Angeles on the 18th.
Tickets are now on sale for the first time duo recital of Isabel Bayrakdarian & Serouj Kradjian in Los Angeles, at Thorne Hall Occidental College on Sunday December 18, 2011 at 7pm. Click here to reserve and purchase your tickets from www.itsMySeat.com/Isabel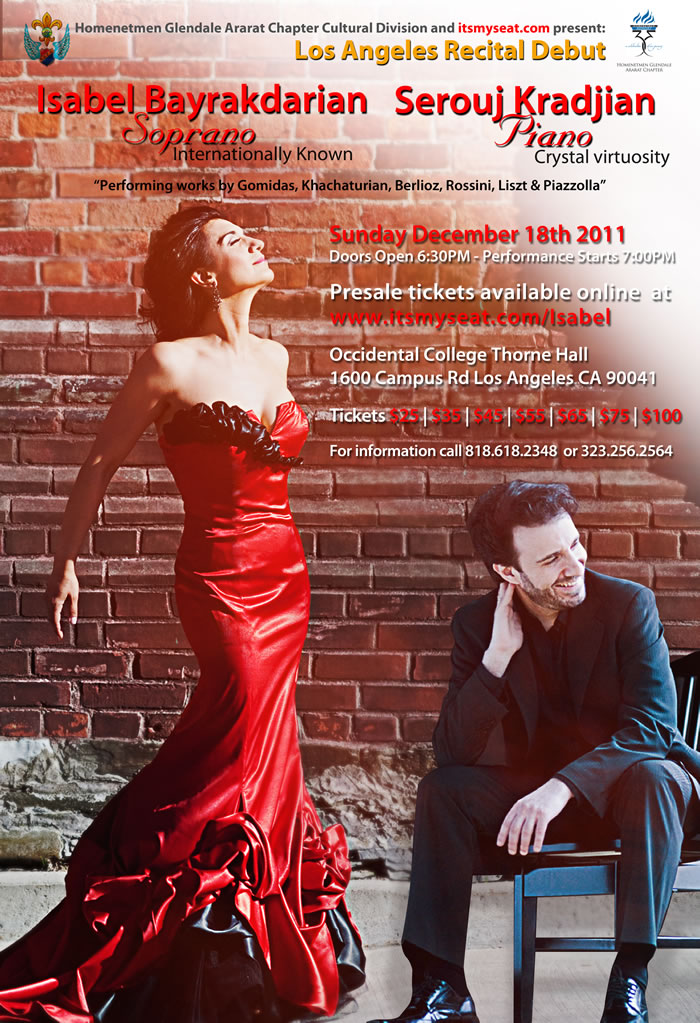 About the Artists: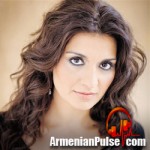 Isabel Bayrakdarian burst onto the international opera scene after winning first prize in the 2000 Operalia competition founded by Plácido Domingo. Since then she has performed in many of the world's major opera houses, recital stages and concert halls. Ms. Bayrakdarian sings on the Grammy® award-winning soundtrack of the blockbuster film The Lord of The Rings: The Two Towers, and her voice can also be heard in the multiple award-winning Canadian film Ararat. She has been honored with four Juno awards, Canada's highest recording prize, most recently for her CD Mozart arie & duetti with fellow Canadians Russell Braun and Michael Schade. Ms. Bayrakdarian is the subject of a CBC-TV film entitled A Long Journey Home that documents her first trip to Armenia; on another trip there she recorded a disc of songs by the country's national composer, Gomidas Vartabed (1869-1935), with Serouj Kradjian and the Armenian Philharmonic Orchestra which is available on the Nonesuch label and was a 2009 Grammy® nominee.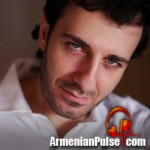 Canadian-Armenian pianist and composer Serouj Kradjian has established himself as a versatile artist whose readiness to break boundaries and explore different styles has made him an exciting voice on the classical music scene. Serouj Kradjian's discography includes the highly acclaimed Transcendental Etudes and Piano Concerti by Franz Liszt on the Warner Music Spain label, "Miniatures", an anthology of music written by Armenian composers,and Robert Schumann's three Sonatas for Violin and Piano (with Ara Malikian) are both Hänssler Classic releases. His concerts have been broadcast by the CBC, Radio de la Suisse Romande, Radio and TV España, the BBC, the Süddeutsche Rundfunk and NHK Japan. Serouj Kradjian began his studies at the age of five, and by seven had won a National Competition for Young Musicians. He studied with Einar Steen-Nökleberg at the Hochschule für Musik und Theater in Hanover, receiving the coveted Solo Performance degree in 2001.Kradjian's talent has been acknowledged by the Chalmers Grant of the Ontario Arts Council and the Canada Council.