A Splinter is our artists of the month for December and we are very proud to feature this exceptional band of talented musicians and singer/songwriters.
A Splinter is an alternative world music band with a bilingual repertoire. The songs are based on real-life experiences, covering a wide array of topics from romance to war. They are written as stories which splinter off from the norm, dancing about in a warm breeze or lodging under your skin in a storm, making you deal with often ignored realities, while challenging you to find ways to laugh at it all, even through tears. A Splinter's songs are written and performed in Armenian and English, but the music is universal. The band is continuously evolving and experimenting, setting off the listener on a truly unique journey. Ashot Tadevosian – Vocals and Guitar Byuzand Azizyan – Jembe, Cajon and Vocals Aragas Abramian – Guitar Jon La Tona – Upright Bass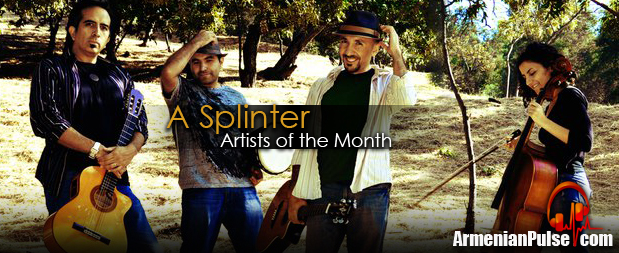 Grigor and Arthur Tagakchyans' video of A Splinter's 'Visit' portrays the transformed lives of people discovering a connection with their motherland through photographs of Armenian greats from the past. The photographs open a portal to Armenia aiding in the realization of their own contributions to the land and what they get back.
Artist: A Splinter
Title: Visit
Music & Lyrics: Ashot Tadevosian
Directed by: Grigor Tagakchyan
Special Effects by: Arthur Tagakchyan
Note: View in HD for optimal performance.
Visit A Splinter: Facebook | Website
You can purchase 'Visit' from the following link:  DOWNLOAD