We are very fortunate enough to feature some of the hottest DJ's around today! In the past, Armenian Pulse Radio has showcased world renowned artist/producer DJ Sammy Flash who gave us some the most incredible DJ Mixes, generating record breaking numbers for Armenian Pulse Radio. It is now time to bring in a new talent and showcase his work to our listeners.
Deejero was born in Armenia but now resides in Marseille, France. Since the age of 16, he discovered his talents and started to occupy himself with DJ-ing. He soon got gigs at Armenian Weddings, Birthdays and Christenings. Deejero's talents got him to perform in some of France's hottest dance clubs. Deejero later produced his own song titled 'Heru' featuring Inessa. which showcased Deejero's music and lyric writing skills.
On September the 9th, we will bring to you, straight from France, the hot mixes of Deejero. This premiere show is called 'World Tour' and it will take you on a musical journey around the world featuring English, Persian, Spanish, Arabic, Greek, Hindi, Russian and much much more. The schedule for the show is to be premiered at 1pm Pacific Standard time and repeat later that night at 8pm (PST). If you miss any of these time slots, we will be re broadcasting the show throughout the week.
Please support and LIKE the fan page of Deejero by clicking here
Stay tuned for more DJ's being added to our scheduling!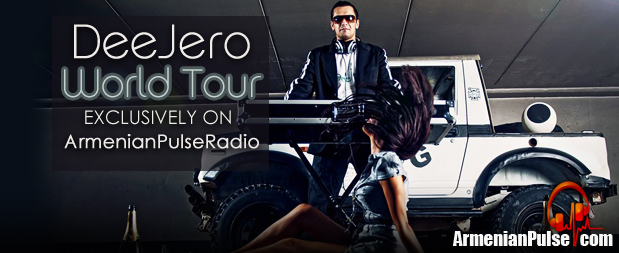 Here is Deejero's latest mix available for download:
DeeJero – Ban To Sleep (Live Mix 2011) by deejero