Soulful Pop Armenian singer Maria Cozette has been on a hot streak as of late. From her rave reviews of the debut album 'Born Ready' to her latest music video releases, Maria has been the talk among all of social media. So, we decided to invite her for a one on one and catch up on her happenings! Maria also gave Armenianpulse.com a sneak peak into her latest collaboration with none other than Apeh Jan. Tonight, we will be premiering her new single 'NOT ENOUGH', a song that's not on her 'Born Ready' album.
The track is written by Maria Cozette & Apeh Jan and the music is by MG. The video is directed by Vanik Vic and produced by Maria Cozette. We would like to also point out that the video was sponsored by Exotic Auto Leasing and brought to you by UNTAMED, Owner Vartan Akopyan has been a constant believer in Maria's talents and has collaborated with Maria on numerous projects. We here at Armenianpulse.com want to congratulate everyone involved, these young talented group of stars are creating some of the best music out there right now and we salute them all!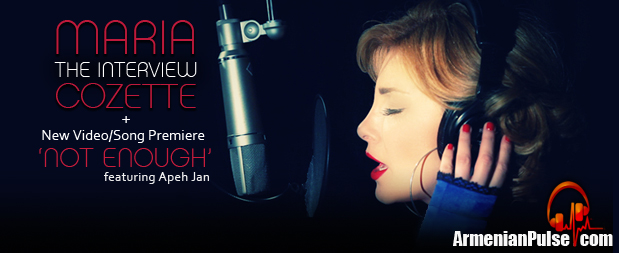 Hello Maria, thank you for taking the time to chat with us today.

My pleasure. Always supportive of Armenian Pulse Radio!

You have been real busy since November of 2010, that's when your full debut album 'Born Ready' was released. 9 Months into it, how satisfied are you with the outcome and the success so far?

I am thrilled to say the least. Aside from the success in sales, I am more so encouraged and satisfied with the feedback I've received from supporters and fans. It has been overwhelming and I've not only enjoyed the journey, but have learned a lot from it. I feel that I've truly grown as an artist and have attained new skills in music/video production as well. A well rounded experience so to speak!

That's great to hear Maria, we've been hearing nothing but good praise about the album and the direction you are going with your music, we would like to congratulate you on its success! We here at Armenian Pulse Radio love the album and you happen to be one of the top 10 most requested artist here.

Thank you. I'm humbled and flattered by all the praise

Armenian Pulse has been supportive in the Soulful Pop movement and I'm ecstatic that my fans have pushed my music to the Top 10!

You recently released your 3rd single off of 'Born Ready' titled 'Outta My System' which happens to be the most downloaded song off the album and for the first time in your career, you co-produced the music video, is this something you would like to do more, maybe even get into directing?

'Outta My System' was a special track for me. I've worked with the ever so talented One 2 for many years now and have seen him blossom into the exceptional lyricist that he is today. It was an honor to collaborate with the director, Armand Gazarian, as he graciously allowed me to co-produce my first music video. With that said, I ventured into producing my NEW video for "Not Enough" and thoroughly enjoy the creative aspect of video production. Born a perfectionist, I also enjoy the meticulous work it takes to generate a visually intriguing video. The crazy stress is worth every second and is rewarding to say the least! I do look forward to learning and growing in the realm of production.

Well, you're doing an exceptional job! The video for 'Outta My System' is done well, it's artsy, hip and very original! It looks like it was a very fun shoot, can you tell us a bit more about it?

Oh wow! Where do I start? Thank you. It was 20 hours in post production. We had shot the bulk of it on green screen. Since the video was meant to portray a dream sequence, all the artsy and trippy graphics were a must. Some may not really get it at first glance, but it grows on you. Honestly, it was a risk but the press and feedback have validated my hard work and for that I am eternally grateful.

No, Serious, you've done great, it may have been a risk but you have done it really well! Just a few days ago, you announced that you would be releasing a brand new track today, along with its video! When I said you've been busy, I wasn't kidding! But what's interesting about this new song is you have teamed up with your long time friend and past musical partner, Apeh Jan. Many people remember you and Apeh Jan during the years with Nuzik Entertainment, which was a very popular entertainment group along with young talents such as A. Chilla, Cap Z, and Gino Slik. What brought on this recent collabo and is this something we can expect more from you two in the future?

Yes, mind numbing hard work is what I have been doing, juicing the very last bit of my creativity to bring forth the best product to my fans. My best I should say… Apeh Jan is not only a fellow artist but a brother to me. We have worked along side one another since 2005, tirelessly making music with what we called Nuzik Entertainment. We built a rep amongst the community as an innovative group of 5 solo artists who introduced a new sound to the Armenian Community. We were both excited to collaborate once again after many years and this track brought our talents together seamlessly. The topic itself spoke to us both and as always, MG produced a "hit" song. As soon as I was done writing to it, I knew I needed Apeh's energy to take the track to the next level. 'Not Enough' is written about the struggles one goes through to "make it" in a not so perfect world. It's relative to many people our age because we are all trying to pursue our aspirations, beat the odds, and ultimately, achieve our goals. Like in anything, there are always obstacles. It's a powerful song in its message and also a dope dance track to vibe to. I think Apeh and I are convinced that the magic in the studio will never die out, no matter how long our time apart. Hopefully, our paths cross again. Until then, we are always family.

I just took a sneak listen before you came by and I must say, I'm very proud of you guys. It's another awesome track! It's NOT in your album, will you be releasing it on iTUNES as a single track?

Correct! "Not Enough" is not on the album 'BORN READY'. It is a single and will be available everywhere online including iTunes, CD Baby, Verizon, Rhapsody, Amazon and the video on the Soulful Pop Channel (www.youtube.com/soulfulpop) Stay tuned to Facebook for all info pertaining to my music (www.facebook.com/mariacozette)

Let's take a short break and premiere the video for our readers right now!

Very nice Maria jan, I like the fact that it's in the studio, sort of that raw feeling, it gives the viewer the chance to see you making magic happen! I'm sure your fans are going to love this song and video! By the way, awesome lyrics as well! Congrats!

Let's quickly take a Maria Cozette history tour! At what age did you discover you had a talent for singing and songwriting and how did you find out?

My very first performance was at the age of 4. It was my kindergarten graduation accompanied by my first music teacher Ms. Ani. She guided me through the first stages of my career booking performances, television interviews, and helping me polish my talents. I would explain the feeling I felt when I first performed but no words can describe it. What I can say is that I was 'Born Ready.' From then on I worked alongside renowned composer/director Sasoun Paskevichyan in short films, acting, singing, and the leading talent on his television series. Simultaneously, I was also working with Alfred Mardoyan as a lead in his choir which held concerts throughout the year, moving on to award winning competitions and vocal training. My parents sensed my longing for the performing arts and did EVERYTHING they could to support me. By the age of 7, I was studying Ballet, Piano, Acting, Singing, and to keep me grounded, I was also a Homenetmen Ararat Scout for 12 years. My parents instilled a tremendous amount of structure in my life, yet gave me freedom to create and be ME. I was always told regardless of my music, education was of utmost importance. I later obtained my Bachelor's in Social and Behavioral Sciences. I cannot tell you what a beautiful childhood I had. The love of my parents has nurtured & cradled my talents, keeping me focused. No matter what, I would never become an arrogant, spoiled brat. My music was priority but education and being a good human being would never fall too far behind. Since the majority of my fans are younger, I have sworn that I'd never lose sight of my morals and always convey a positive message. I also commend and encourage all my fellow artists for the hard work they put in and value the criticism of those who are more experienced in my field.

Wow!!!! That's very impressive! And it's beautiful to have that attitude, you will surely go far with it! Your lyrics have a bit of a girl power attitude in them, Is it important to you that your audience understands your music and the feelings within it? Or are you happy for them to take from it what they will?

Music is meant for every person to translate in accordance to their own life experience. My personal perspective is that of a woman, but I have a lot of male fans because the message is relative to both males and females. Being a woman, I do strongly believe that we often have to work harder to prove ourselves. That isn't necessarily a bad thing because we become stronger in that sense. At first I was resistant and almost upset that when I'd talk business to a man, they would seldom take me seriously. My work speaks for itself. I would spend hours writing the song and building the music with the producer, then record, then sit in with the engineer on the mixing session and pick apart the track. I'd then proceed to take the song to master it, sit in on that session, then find ways to promote and market the music. By the time the song was complete, I was exhausted, but I had also attained knowledge in every aspect of making music. As the men that worked in entertainment observed my work ethic, they realized that they needed to take me seriously. I had something to bring to the table. I was not just a pretty face with a voice. Although we sometimes need to work harder, the results speak volumes to those who matter. So it's not that my songs are about girl power. It's that they tell a story of drive, ambition, and self empowerment. No matter what, never give up on your dreams.

That was beautifully said Maria, thanks for sharing it so eloquently! What gives you your inspiration when you are writing a song and do songs come to you in unusual ways and places? Or is it more deliberate, where you make a decision to write something?

I am inspired by a lot of things. A simple conversation with a stranger or a rather detailed one with a friend can inspire a world of ideas in my head. I could be driving and a melody or idea pops up, immediately turning on my trusty voice recorder to add on to the 79 other recordings. I am inspired by LOVE; By its power to drive you crazy or cause absolute bliss. I'm inspired by my beautiful childhood and why I am still troubled by personal issues just like everyone else. I am ever so inspired by my fans and the amazing comments they make. I take them with me everywhere I go. I'm inspired by Hate and evil people who thankfully, have caused me to write some good songs

And lastly, I am inspired by Life. The irony of many things that guide you through this journey, the despair, grief, and how even in the darkest moment, there is always something beautiful that seeps through.

Do you generally write the lyrics first? Or do you start with the music and/or melodies?

It differs depending on what producer I am working with. Sometimes the music is already composed and I will write the lyrics and melody according to it. And other times I already have a song idea which I convey to the producer and we build on it. Music is limitless.

True! What in your opinion makes a song truly memorable and special?

It's tough to say but great question Armenian Pulse!!! The beat is sooo important. Creates the mood, the vibe. But to me the most impressionable are the words. That's what I always pay close attention to when I listen to songs by other artists. And it's rather annoying because I could never "Just" listen to a song. I analyze its production, writing style, rhythmic pattern, mix, instruments, and vocal production. A blessing and a curse.

Well, that's a true musician for you

Do you have a favorite song you have written and if so why is it your favorite?

Everyone always asks me this. It's very hard to decide since I write all my songs. Every song is a different world to me. But my favorite song I've written so far is "Born Ready" the title track on my album. It's a moving and powerful ballad, vocally, lyrically, and production wise. It's pretty simple, to the point, and so many can relate. Gives me goose bumps every time. But again I am attached to all my songs and they all speak MARIA.

What aspect of making music excites you the most right now?

Currently, Songwriting I could say is what I enjoy more than anything else in making music. I LOVE it. I've grown as a songwriter and at the risk of sounding immodest, I'm a damn good writer. I've learned the 'formula' and content placement which is so important in appropriately telling a story through music. The listener needs to really feel you. It is also my favorite way to alleviate stress. After I'm done writing a song, I feel exhilarated, anxious, and excited all at the same time. It's pretty awesome! I've also had the opportunity to write for a lot of other artists which is an amazing experience on its own.

Well, you ARE a damn good writer, I can attest to that! It's safe to say that you know what you're doing, it shows in the quality of your work! Are there any shows or concerts planed for Maria Cozette in the near future?

There sure is!! I am in the midst of planning a concert for February 2012. Details will be posted all over the place!!

I'm sure most of your fans are anxiously awaiting those details! In the past, we've seen you perform in small venues along with huge theaters such as the Kodak and Gibson, Are you very comfortable on stage, in front of thousands or is there still a shyness or nervousness when you're out there?

I always get nervous and the adrenaline in my body doesn't allow me to relax. Usually 10 minutes before I perform. The second I get on stage, I feel at home. I actually enjoy performing in front of bigger crowds. Due to the high quality of stage production, not only is it visually intriguing for the audience, but it also sets the tone, sending me off into my own world <3 Nothing like a big stage, bright lights, and a mic.

What song from your set do you enjoy performing the most?

I enjoy performing my ballads the most because they are where I can vocally express myself the best. It also depends on the venue. If it's a young crowd, then the upbeat tracks are always fun!

You're songs, your image and your talent is well beyond good enough to compete with today's musicians in the American market, what are the things you are doing to try and break into the American market if any?

Wow, thank you!! I do my best. I do ME. I am working with an incredible PR firm, and they are truly working daily to push me into the American Entertainment Industry. They pitch my music for movies, television, commercials, as well as book me for amazing red carpet events such as Comic Con this past year. My objective is not only to break through with my music but I also want to get into doing Voiceovers for cartoons. I am also working with some veterans that have been in the game since the 1950's. They have represented artists such as Aerosmith, the legendary Janis Joplin, to name a few. All of these people, if anything, guide me and push me in the right direction.

That's great to hear Maria, we know that day will come very soon, you definitely deserve it! It's not easy and that leads me into my next question, what aspect of the music business discourages you the most, in any?

The bad reputation people have built around the Entertainment Industry. It's not all filled with bad people. If you are in it for the music and you are an upstanding individual, then you will end up working with others who are equally focused. Depends on the person. You lay out your path. No one paves the way for you.

Good advice there! What would you be doing if music was not in your path, do you have any other interests career wise?

My passion aside from music has always been working with youth. I was a teacher as well as a program leader for a number of non-profits. As a matter of fact, my students would inspire me on a daily basis. Kids are truly fascinating. I would work with youth or anything pertaining to non-profit/charity. Through my music, I have collaborated with a number of non- profits. Nothing in the world can substitute the feeling you get when you know you are contributing to the greater good. #believe

Maria, can you get anymore perfect? lol I have learned a lot about you today and I'm sure your fans did also. Thank you again Maria for joining us today, We had a blast, but before we let you go, we here at Armenianpulse.com like to ask a few personal and fun questions, so hope you don't mind answering a few for your fans.

Go for it dude!

erm, hehe, ok, Give us your top 5 artists or songs you simply can't get enough of.


Lauryn Hill
Gwen Stefani
Kanye West
Garth Brooks (Yes, I love country music)
Ray Charles

Nice! Tell us something most people don't know about you.

Other than my car, I never listen to music if I'm not making it. And I NEVER watch TV. Silence is Golden.

Interesting! Who was your biggest celebrity crush growing up?

Brad Pitt. Enough Said.

Why am I not surprised, Note to self, in future don't ask this question, It's ALWAYS Brad Pitt!!!! ahem! So, what's your favorite Armenian food?


Karmir Plav and Baghali Plav


What's your favorite past time or hobby?

Songwriting, Watching Movies (Never Horror), and Enjoying the Great Outdoors. And of course having a good conversation with my closest friends.

Where do you see Maria Cozette in 5 or 10 years?

There are so so many things I want to do. Working with young talent in Artist Development is most definitely one of them as I am currently building my clientele. Who knows where my own music will take me. I just want as many people possible to hear my stories. I don't do it for the fame. I do it for the Love of Music.

Well that was fun! We really enjoyed it and hope you did as well! We wish you nothing but the best in your career, your life and your upcoming projects. And hope to see more of you real soon!

Armenian Pulse Radio, I thank you for being supportive. Means the world to me. I want to extend my sincere gratitude to everyone who has stood by me through my many trials and tribulations. I am, in every sense of the word, an independent artist so those superstars who God put in my life at one point or another have made me feel less alone in my journey to further my career. I hope that my work has made you proud to have represented me and I appreciate every single person for spending their precious time to help me shine. I will never EVER forget any of you. God bless. One Life. Dream BIG.

Well said Maria jan!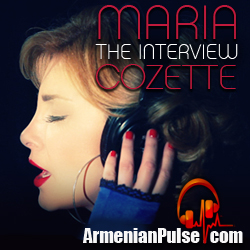 For Maria Cozette's Complete Online Presence please visit the following links!
www.itsmyurls.com/mariacozette
www.mariacozette.com
Soulful Pop Channel
www.youtube.com/soulfulpop
Of course you can also hear her full album on Armenian Pulse Radio